Communication Frustration
A few weeks ago I was overcharged for something on my account and a monthly payment was taken twice. In an attempt to get the money back, I was told to contact the accounts department only to be told – "I am afraid our accounts department does not have a phone number so you can only email them." It took a week to get a reply.   
As someone who works in the speaking industry (whose primary business is about talking to people), I am used to speaking to people on the phone and like to be able to call someone if needed too – and include my number on my emails so that people can contact us. 
I am sure there are various reasons why there is a reluctance to give out numbers but the lack of communication frustrates me. 
So purely on a selfish basis, if you looking to improve your communications (be it to improve customer service or to help with confidence) there are a few speakers we can suggest.  
CAROLINE GOYDER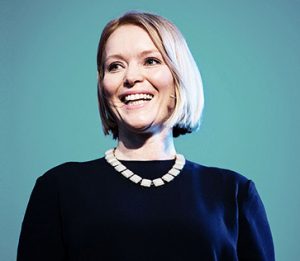 Caroline Goyder is the Founder and Creator of The Gravitas Method and a respected and in-demand speaker on how to improve confidence and to speak with impact.
Having spent many years as a voice teacher at the Central School of Speech and Drama, she has spent the last decade developing a system to help everyday people to perform with the same poise, presence, and power in day-to-day life. Considered to be one of the UK's top coaches, her clients range from major companies, through to TV newsreaders and Caroline helps them all to feel their best.
DOMINIC COLENSO
Dominic Colenso is a speaker who knows a thing or two about the highs and lows of performance. By the time he was 26, he had flown a Thunderbird, lost one million dollars, and been fired by Simon Cowell. Beginning his career as a professional actor, he worked extensively on stage and screen before training as a director at the Royal Academy of Dramatic Art in London.
Dominic Colenso's experience and fascination with how the body, breath, and voice can influence performance led him to set up his communication skills training consultancy In Flow and to write his bestselling book "IMPACT: How to be more confident, increase your influence and know what to say under pressure". Dominic now works with organisations around the world to help individuals, teams, and leaders take centre stage and deliver outstanding performances.
MARC HOGAN
Marc Hogan is a Sales, Communications, and Motivational Speaker who was challenged to be a comedian and perform at the Edinburgh Festival within 12 months all to win a £1 bet.
A former sales & communications trainer, whilst giving a talk to a business audience, a fellow speaker challenged Marc to perform a 21-night, one-man comedy show at the world's largest comedy event – the Edinburgh Fringe Festival. One of his presentations is on Inspirational communications – 
Inspirational Communication – Whether it is customer service, presenting at meetings, networking at events, or negotiating with customers and suppliers, your people's communication skills are crucial to ensuring your business's success. In this dynamic and interactive course, Marc utilises cutting-edge psychological techniques complemented by good old-fashioned common sense, to leave audiences excited and energised about improving their communication skills back in the workplace.
NICK SAUNDERS 
In an era where employee engagement is down to 15% and 4 in 10 of us report some form of interpersonal conflict at work, Nick Saunders helps individuals and teams transform the way they operate with others. He specialises in communication, collaboration, and conflict resolution, enabling people to work together more effectively.
Nick Saunders does this by sharing a powerful, practical, pragmatic 6-step model that enables people, colleagues, and teams to get on with, collaborate with, and interact with anyone and everyone.
SOPHIE BENNETT
Sophie Bennett is an expert and speaker on motivation and performance. She has helped champions to win medals, leaders to transform business performance, salespeople to win deals worth millions, and individuals to perform beyond their wildest expectations.
Sophie Bennett is a visiting lecturer at the Cranfield School of Management a grand prix dressage rider and former national equestrian champion, a best-selling author, and was Head of Content for the global computer giant, Dell. One of her keynote sessions is on communication – 
COMMUNICATION – Gain insights into high-impact, high-influence communications. Discover how to communicate with clarity, confidence, and gravitas.
JEZ ROSE 
Jez Rose has been in demand as a consulting behaviourist, keynote speaker, and host at conferences worldwide for almost twenty years. His passion is understanding why people do the things they do and how to influence them for the better, spending more than fifteen years working with organisations worldwide to help engage, inspire, and train teams in his specialist areas of culture, imposter syndrome, and high performance.
One of his keynotes is on service –
Service – Delivering extraordinary customer service relies on understanding the psychology of customers, and how our own behaviour can influence delivery, recovery, and the customer journey. Accompanies Jez's best-selling book Have a Crap Day
As always if we can ever help with any enquiries please email us at enquiries@scampspeakers.co.uk